Welcome to our Site
Hotels in Madhya Pradesh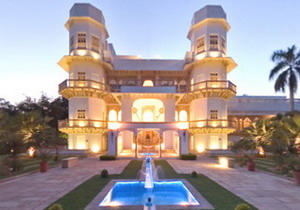 Madhya Pradesh - endearingly referred to as the heart of incredible India has plenty in store for its visitors. It deserves this sobriquet not merely because of its location in the center of the country but also because it is a rich store house of some of the most exquisite things that are identifiable with India. Magnificent monuments that include beautifully carved temples, imposing forts, grand palaces, Buddhist stupas are found in Madhya Pradesh alongside lofty mountains, meandering rivers and dark dense mysterious forests home to an amazing variety of wildlife. With a plethora of so many alluring destinations, it is no surprise that it is frequented by many. There are many Hotels in these various fascinating places of Madhya Pradesh to meet the needs and demands of the travelers. This state can boast of a rich cultural heritage and has been a major center for Hinduism, Buddhism, Jainism and Islam.

Madhya Pradesh hotels offer tourists a very comfortable stay in order to let them enjoy its beauty. Tourist destinations are scattered all over the state. Cities like Bhopal, Sanchi, Ujjain, Indore, Khajuraho, Gwalior, and Jabalpur are unusually exciting for their unique sites. All these places are tourist destinations, so you will find hotels to suit your needs. All the major hotels are near tourist hot spots.



Hotels in Madhya Pradesh offer a wide range of facilities keeping in view various classes of tourists. If you want a luxurious and lavish stay, you can opt for luxurious five star hotels. You will find middle range hotel in the form of three star hotels. There are budget hotels and economy hotels too for the budget conscious people.

Madhya Pradesh also has many historical palaces, some of which are open for tourists in the form of heritage hotels. They give a feel of royal splendor, which is the ultimate in Indian hospitality.

Following are the different categories of Hotels in Madhya Pradesh...