Welcome to our Site
Heritage Hotels in Jodhpur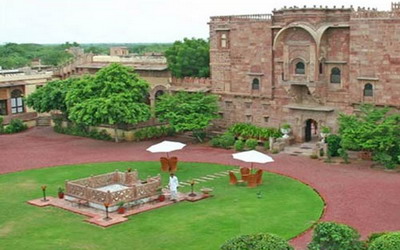 The second largest city in the sate of Rajasthan, Jodhpur was a princely state and was formerly known as Marwar. Jodhpur was founded and has been named after Rao Jodha of the Rathore Clan of Rajputs in 145 9 AD. Jodhpur is now a popular tourist destination and an important business centre in Rajasthan. The heritage hotels in Jodhpur offer contemporary luxury in nostalgic settings still saturate with the aroma of the past.

The major tourist attractions of the place are the Mehrangarh Fort, the Umaid Bhavan, Osyian Temple and the Jaswant Thada.

Most if these heritage hotels in Jodhpur India came up in the post-independence era, when stripped of their jagirs, the royal families had a hard time in terms of finance and a harder time to maintain these mansions which entailed huge expenses. As a result, the royal families converted parts of them into hotels while continuing to live on the other parts prohibited from public entry.

The heritage hotels mostly have retained the period furniture and the family portraits and photographs serving the dual purpose of a museum and hotel while also giving a strong feel of nostalgia and history to its guests. The heritage Hotels in Jodhpur built in the 20th century reflect a blend of Rajput traditional and colonial style of architecture.

The interiors of these hotels in general are replete with colonial hangover in the form of wall papers, carpets, billiards tables, tennis courts, etc. The heritage hotels in Jodhpur offer a guarantee of state of art luxury and historical elegance.


Following are the different categories of Hotels in Jodhpur...